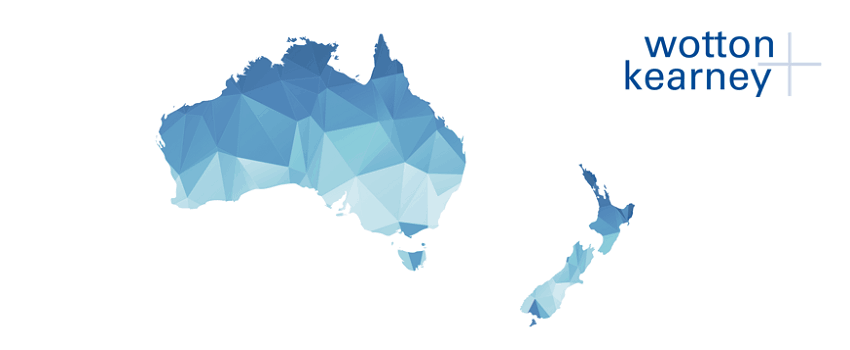 5 October 2017
W+K Announces New Zealand Team
We are pleased to advise of an exciting development at Wotton + Kearney that will allow us to partner more effectively with our clients and produce better legal solutions as part of the Legalign Global alliance. This development results from a recognition that the writing of insurance business is not confined by national boundaries and that many buyers of insurance have a business focus which extends beyond Australia.
As of 9 October 2017, Wotton + Kearney will integrate operations with our Legalign Global alliance firm in New Zealand, DAC Beachcroft. Accordingly, six new Partners and 11 other insurance lawyers in offices in Auckland and Wellington will join W+K. Our new New Zealand team brings a wealth of local knowledge and insurance expertise to W+K. Antony Holden will continue to head up the New Zealand practice as Managing Partner, NZ with a team of 17 highly qualified insurance lawyers. The firm is listed as a Tier One firm in The Legal 500 in New Zealand for Insurance Law and their insurance lawyers are recognised as some of the best across New Zealand.
W+K's Chief Executive Partner, David Kearney states: "As a law firm with a singular focus on the insurance industry, we are delighted to be broadening our services into New Zealand to assist our clients and their customers doing business in the region by joining forces with a high quality group of insurance lawyers led by Antony Holden. This integration has resulted from open dialogue with the broader DAC Beachcroft team around what is in the best interests of clients in our region and is reflective of a strong, trusting relationship between two founding member firms of Legalign Global.
This expansion is consistent with our motivation to continue to build on our strong and collaborative global alliance and we look forward to enhancing our regional W+K team as we work with other Legalign Global member firms to deliver insurance legal services to our clients."
Managing Partner of the New Zealand practice, Antony Holden, believes the integration with W+K allows his NZ firm to grow its regional presence in a way which can only assist the focus and therefore quality of services it is able to provide to international insurers doing business in NZ and to local insurers and their customers, whilst at the same time continuing to work closely with his colleagues at DAC Beachcroft through Legalign. "Given our existing relationship with W+K and their knowledge of the New Zealand insurance market, we see this as an exceptional opportunity to reinforce our local market presence and build on the Legalign Global brand across Australasia.
We also look forward to a continued and strong relationship with our DAC Beachcroft colleagues through our global alliance".
© Wotton + Kearney 2017
This publication is intended to provide commentary and general information. It should not be relied upon as legal advice. Formal legal advice should be sought in particular transactions or on matters of interest arising from this publication. Persons listed may not be admitted in all states and territories.