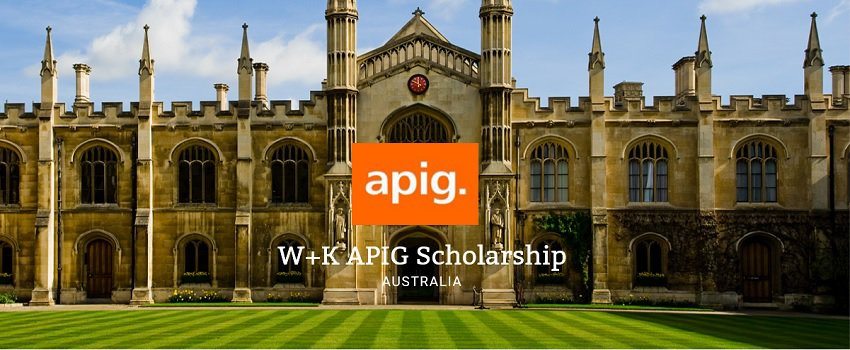 28 June 2016
2016 W+K APIG SCHOLARSHIP NOW OPEN
Wotton + Kearney, in partnership with the Australian Professional Indemnity Group (APIG) is excited to announce the launch of the 2016 W+K APIG Scholarship. The Scholarship is an outstanding opportunity for a talented young APIG member to attend the 20th Annual Professional Indemnity Forum (PIF) Conference and Lloyd's market in the UK in July 2017.
It is open to APIG members under the age of 36, with the successful candidate benefiting from a Scholarship Package which includes:
Attendance at the 3 day PIF Conference to be held in Cambridge, England on 3-5 July 2017
A planned visit to the Lloyd's insurance market in London
$4,000 towards return economy airfares and transfers
$3,500 towards accommodation and spending
To enter, candidates will need to produce a submission of up to 600 words outlining their background in financial lines insurance and their views on the industry from their perspective.
Click here to apply.
Submissions close on 12 August 2016, with the winner announced on 1 September 2016 at the APIG National Conference and Gala Dinner.
We would also like to wish our 2015 Scholarship winner, Kristine Salgado of Willis Australia, all the best as she embarks on her exciting trip to the Professional Indemnity Forum Conference in Oxford, England. We look forward to hearing how it all goes.
© Wotton + Kearney 2016
This publication is intended to provide commentary and general information. It should not be relied upon as legal advice. Formal legal advice should be sought in particular transactions or on matters of interest arising from this publication. Persons listed may not be admitted in all states and territories.