Australasia's largest specialised insurance law team
Founded in 2002, W+K has grown from two partners to be one of Australasia's undisputed leaders in the provision of legal services to the insurance industry with more than 340 specialist insurance lawyers across offices in Adelaide, Brisbane, Canberra, Melbourne, Perth and Sydney in Australia, and Auckland and Wellington in New Zealand.
Local insight, global reach
We are the only insurance law firm that has geographic coverage across the Australasian region and through our international alliance with our insurance law partners in Legalign Global, we provide our clients with global reach and deep local knowledge and capabilities into the issues that matter for them.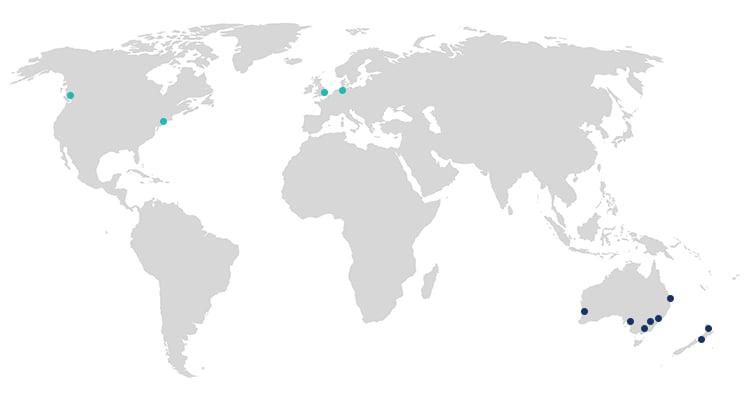 Legalign Global facilitates a more effective legal services response for global insurers and their customers undertaking business activities across national borders and works to a common Client Services Charter so that our insurance clients receive the same high levels of service and quality of advice across the globe.
Coverage for all insurance law needs
We have one focus – we eat, breathe and sleep all aspects of insurance law.
We provide our clients with accurate policy advice and first-class dispute resolution services across all policy types and in every market sector. We are the trusted advisors when insurers and their customers are faced with the most valuable, reputation-breaking, highly complex matters. Our efficient matter management practices provide commercial, efficient resolutions to high-volume lower value commodity claims. In all cases, we take a considered yet practical and predictive approach to claims management.
We structure our business so that we're aligned with our clients' product lines. This ensures that our lawyers are thinking like our clients.
Excellence in client service
We understand that outstanding client service, accurate reserving and a practical results orientated business focus assists our insurer clients to maintain key customer relationships and ultimately assists them produce better financial results.
Clients come to us because we know insurance, we deliver outstanding client service and have consistently demonstrated excellence in solving a wide variety of insurance disputes.
Our clients rank us as leaders in insurance law, evidenced in our Band 1 position Chambers Asia Pacific for every year since 2015 and as a Top Tier firm in The Legal 500 Asia Pacific.
Strong industry relationships and sector knowledge
We believe in building close partnering relationships with our clients where our legal skills combine seamlessly with our clients' commercial focus. Many of our lawyer team have been working closely with insurance industry participants for up to 30 years. Our singular focus on insurance law has allowed us to build an unparalleled knowledge of the insurance sector and very strong industry relationships.
We continually invest in our people and our business, ensuring our lawyers are at the forefront of both insurance law and insurance industry developments and have at their disposal the best business and technology resources available.
We encourage secondments to both assist our clients through challenging staffing periods and to ensure our lawyers develop a deep understanding of our clients' businesses as well as their legal challenges with the lessons they learn shared across all of our teams.
We are regularly called on by industry bodies and the insurance press to comment on insurance issues. We collaborate with key industry associations and we are committed to continuous education.
Our close partnering relationships with our clients extend to giving back through our highly regarded pro bono and Community Footprint program.
We couldn't do all this without our clients
Our clients include some of the world's largest insurers and re-insurers participating in the Australasia insurance markets, together with a number of Australia and New Zealand's largest blue-chip corporates that manage large under deductible insurance programs or self insure their business risks.
But we don't just act for market giants.
Many of our clients are Lloyd's syndicates writing insurance business in our region either directly or through coverholders and we have a detailed understanding of the unique Lloyd's insurance market. We also assist local underwriting agencies, insurance brokers, TPA's and other insurance market participants.
We provide our insurer clients' customers with the same level of client service we convey to insurers as we understand the significant reputational risk at stake in many of the disputes we are retained to resolve. Whether big or small businesses, we have built excellent relationships with many corporates across various industries through provision of legal services to those companies.
12 August 2022
Strata Plan 92450 v JKN Para 1 Pty Ltd & Toplace Pty Ltd [2022] NSWSC The Supreme Court of NSW recently handed down a decision on a damages claim regarding building cladding. The Court found that the plaintiff had failed to demonstrate that cladding was combustible and that an 'alternative solution' could not be performed to make it comply with the Building Code of Australia. W+K construction PI specialists Robert ...