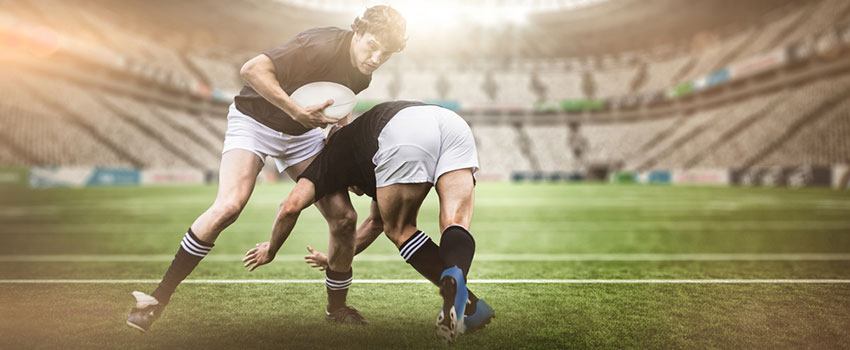 23 January 2017
Brain injury in sport: the new 'asbestos'?
A growing area of risk for underwriters is in the area of delayed onset brain injury related to contact sports. Richard Johnson, Partner at Wotton + Kearney, explores this highly topical issue and the implications for the insurance industry
What is delayed onset brain injury?
Mike Webster played centre for the Pittsburgh Steelers of the American National Football League (NFL) for 15 seasons. His professional career was illustrious, winning four Super Bowls with the Steelers. Individually, he is widely regarded as the greatest NFL centre of all time. In total, Webster played 21 seasons of college and professional football, along with high school varsity football, and many more junior games.
Webster died in 2002, aged 50, after suffering a heart attack. Post mortem, Webster was diagnosed with chronic traumatic encephalopathy (CTE), a neurodegenerative disease, the first CTE diagnosis in a professional sportsperson. Doctors subsequently estimated that over Webster's football career he experienced collisions equivalent to being involved in 25,000 motor vehicle collisions.
Prior to his death Webster suffered from forms of amnesia, dementia and depression. This led to problems in his personal life including drug and alcohol abuse. Several other high profile NFL players who took their own lives were shown after autopsy to also have had CTE, including Hall of Fame linebacker Junior Seau, who died in 2012 at age 43, and former Chicago Bears safety Dave Duerson, who shot himself in the chest at age 50 in 2011, leaving text messages requesting his brain be examined.
Such symptoms have also been regularly associated with other forms of brain injury associated with collision and contact sports. The latest research indicates that CTE is caused by repeated blows to the head, regardless of whether or not they cause concussion. Therefore, while repeated concussions are a significant risk factor of a later CTE diagnoses, sub-concussive head trauma also plays a major part.
Sub-concussive trauma occurs when the brain is traumatised without concussion, where the head undergoes a sudden movement bringing the brain into contact with rough internal surface of the skull. While the medical evidence to support a causal link between brain injury and contact sports is presently not conclusive, there is an apparent epidemiological link: players of collision and contact sports suffer brain injuries at a higher incidence than the general community.
Legal position – United States
The similarity to the epidemiological links between tobacco use and lung cancer, or asbestos exposure and dust-related diseases, should not be overlooked in understanding the steps being taken by professional sporting bodies in the United States to resolve claims brought against them.
Class actions have recently been brought by participants in the NFL and other sports including ice hockey (NHL), college sports (NCAA) and "professional" wrestling (WWE) to recover damages arising from brain injuries allegedly caused while playing. Claims against the NHL and WWE are ongoing while claims against the NFL and NCAA have been settled by the governing bodies. The $US1 billion settlement with the NFL will cover more than 20,000 former players for up to 65 years of their lives and provide funding for medical research and education. The class action claimed the NFL hid known concussion risks. Claims for coverage against their insurers are continuing.
A claim by the parents of a number of junior soccer players against the United States Soccer Federation (USSF), resulted in a settlement whereby the USSF agreed to change its safety protocols to ban players aged 10 and under from heading the ball and restricts players aged 11 to 13 from doing so in training.
US sporting bodies are now taking a proactive approach to resolve these disputes to protect their respective brands. However, they may be doing so in the absence of substantiated medical evidence to support causation. This is likely to lead to significant coverage fights between those sporting bodies and their insurers.
Lessons for Australia
Claims for delayed onset brain injury arising from sports are likely to be made in Australia in the not too distant future. It is not presently clear how the courts will handle the claims. At common law, a participant in a sporting activity cannot sue for damages for personal injury unless the injury was caused by a factor outside the risks accepted by the participant. The accepted risks depend upon the particular sport. Dangerous recreational activity legislation in various jurisdictions arguably extends the defence available to sporting bodies.
Further, sporting bodies do not have a positive duty to change their rules to prevent a risk of injury, particularly in circumstances where the body has little control over the way matches are played or officiated. However, a number have changed their rules to reduce or eliminate head contact (for example the banning of the shoulder charge in the NRL), and most contact sports, including the AFL, have brought in concussion protocols to restrict players returning to play once diagnosed with concussion.
At an elite level this is much easier to enforce. At a grassroots level, particularly with junior players, it is more difficult. There is a lack of information available to coaches and officials regarding concussion at that level, so lower level sporting bodies (clubs, local associations) are more likely to be exposed to the risks in the future. Like the US, it is likely that schools and sporting clubs at all levels will need to provide concussion education for coaches, athletes, and parents and enforce the medical guidelines for returning to play or face potential consequences. It will also be necessary for governing sporting bodies (and in the case of schools, the Government) to ensure that these programs are undertaken to avoid exposing themselves to the risk of litigation.
Underwriters should be aware of these potential future risks when providing cover to sporting bodies. Further, underwriters should be asking governing sporting bodies how they propose to educate about new rules and protocols relating to brain injuries at a grass roots level.
© Wotton + Kearney 2017
This publication is intended to provide commentary and general information. It should not be relied upon as legal advice. Formal legal advice should be sought in particular transactions or on matters of interest arising from this publication. Persons listed may not be admitted in all states and territories. For our ILP operating in South Australia, liability is limited by a scheme approved under Professional Standards Legislation.