Wotton + Kearney has a market-leading cyber team (view our contact card) that has handled hundreds of cyber, privacy and data protection claims, including some of the largest and most complex incidents in Australia and other jurisdictions. We also offer a unique cyber forensic service where we have partnered with Canopy for AI backed PII reviews, and advise on proactively managing privacy and technology liability risks.
We work for the full spectrum of insurance industry participants, including local and international insurers, volume SMEs, large corporates, Lloyd's market coverholders, underwriters and participants with industry specific facilities.
Our experience spans industries including accountancy, recruitment, construction, manufacturing, education, financial services, not-for-profit, technology and IT services, health, professional services, health and retail.
Cyber incident response 
If a cyber breach occurs, the last thing you want is a delayed response. Wotton + Kearney focuses on getting clients back to business swiftly. We also immediately protect key reports and other sensitive communications under legal professional privilege, which can reduce exposures if action is taken later.
W+K offers:
A dedicated 24/7 hotline:
We operate a cyber incident response hotline that is monitored 24/7 by our dedicated team of breach response lawyers. By using a lawyer as an incident manager, we can immediately protect key reports and other sensitive communications with your customer and other vendors under legal professional privilege.
Breach response managers:
We work with insurers to coordinate and assist insureds with the range of services and resources available under their policy to investigate and respond to a cyber incident or data breach.
Established cyber breach & IT vendor relationships:
We will match the right vendor to the insured's needs leveraging our strong relationships with market-leading experts, including IT security specialists, communications experts, notification vendors and ID monitoring.
Global alliance to support your needs:
If you need us to support cyber responses in foreign jurisdictions, we're well placed to do that through our Legalign Global alliance (learn more). Cyber incident response hotlines:
Privacy and data protection
We advise on the full range of privacy and data protection, including privacy regulation and notification obligations, privacy and security risk mitigation, commercial and IP data loss issues, cyber-extortion/ cybercrime, regulatory investigations and third-party claims.
Cyber forensic services
W+K provides fast, accurate cyber forensics and PII detection by partnering with Canopy's latest purpose-built AI-powered technology platform. This will support you and your customers to meet non-negotiable data breach deadlines and give you confidence in the accuracy of your assessment.
By using the Canopy software, W+K can reduce the time, cost, risk, and effort associated with the defensible detection of sensitive data by streamlining data breach response at every step, from process through to notification. Importantly, engaging W+K to do this work means you will maintain legal professional privilege, which can reduce exposures if action is taken later.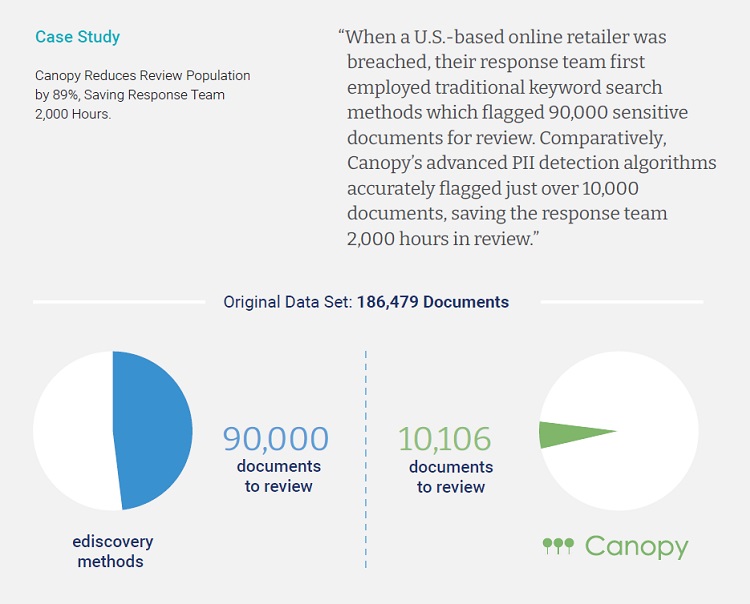 Our experience:
Examples of how we have helped insurers and their clients to manage cyber risks and incidents include:
Managing notifications under Australian privacy law
Acting for organisations in instances of brute force, phishing and Office 365 compromises involving the compromise of data records, requiring potential mandatory notification, handling sensitive communications to customers, and managing reputational risks.
Hacker damage from ransomware
Advising insurers and their clients on coverage for first party hacker damage after claims made by small to medium accountancy firms that had files encrypted with ransomware / crypto-locker viruses.
NZ data security breach affecting 1000+ customers
Leading the response to allegations against a large New Zealand technology company in a major data security breach affecting over 1,000 customers. This included coordinating the forensic and PR response and addressing third party contract claims.
Cyber fraud attacking client funds
Social engineering, phishing and spear phishing attacks against businesses large and small, including where a supplier or manager is impersonated and the business is fooled into paying money to a fraudulent third party.
Recent updates and insights:
Cyber, privacy and technology issues are evolving rapidly, so we stay across local and global developments and anticipate emerging issues. You can view our latest updates and insights on the right-hand side of this page or by visiting our Knowledge hub.
Our dedicated specialist team:
We have worked on many cyber breach responses for insurers, brokers and their customers in Australia and New Zealand. We also draw on our knowledge of each jurisdiction and our excellent relationships with the local regulators to effectively work together on cross-border breaches. Click here or below to download our Cyber, Privacy + Data Protection team contact card.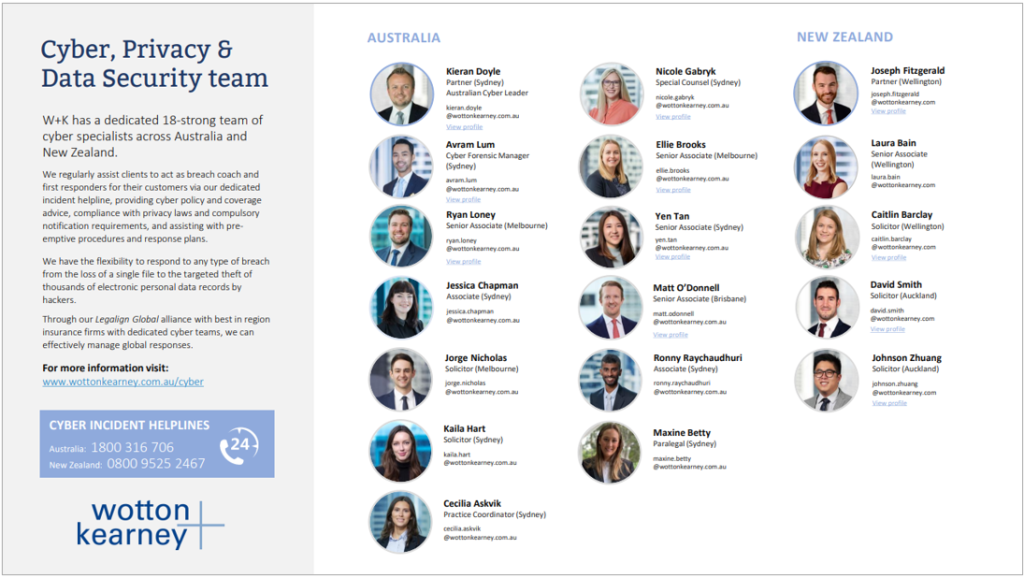 Cyber + Data Security Key Contacts