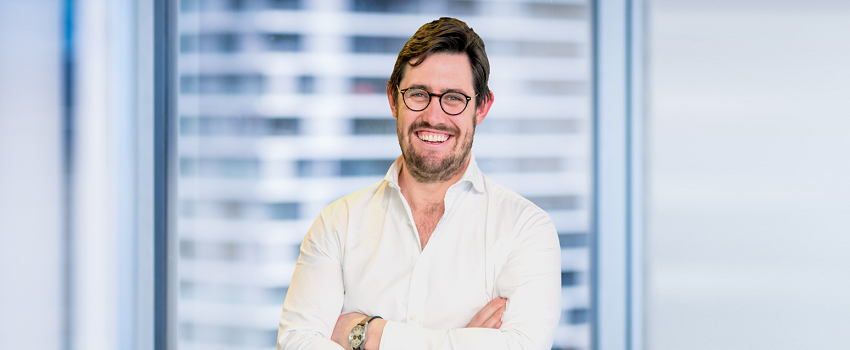 4 June 2021
Get to know James Clohesy, new partner and general liability specialist
In our next Q&A with recently appointed partners we get to know Sydney GL specialist James Clohesy.
Tell us about your journey to becoming a partner at W+K
I grew up in Central West NSW and moved to Sydney to go to university. I started my law career working for a floor of barristers. If you had asked me at the time, I would have described the job as involving detailed research and assisting barristers with their busy practises, but in reality it was more collecting lunches, pushing trolleys to court and picking up dry cleaning! It was a foot in the door, so I wasn't complaining. I eventually picked up a job working for a national plaintiff firm, working across their regional offices in Dubbo, Gunnedah and Coffs Harbour doing a broad range of litigation. After 4 months of regional travel, I ended up back in Sydney with that same firm before moving to a national defendant insurance firm where my interest in insurance law began. I always had designs on going to the bar, but over time learnt that it was possible to get your fix of advocacy, ADR and advice work by doing insurance litigation. It also had the added benefit of working in great teams of both colleagues and clients. I had always viewed W+K as a market leader and was really excited by the opportunity to join the team. I was lucky enough to have them put their trust in me, and here I am!
What made you decide to become a lawyer?
Circumstances really. When I was looking at going to university I applied to nearly every vet school in the country. The reality was that I would probably end up in a regional university. I had no problem with that, but I had also never lived in a city and most of my mates were moving to Sydney. So, on a whim, I put a Sydney law school into my preferences to see what would happen. The rest is history. While I hadn't set out looking to become a lawyer, I really enjoyed the intellectual challenge when I started to focus on my studies (that might have taken a little time than I like to admit…). The intellectual challenge is what keeps me interested.
What's the best piece of advice (work or personal) you've been given?
My grandad always told me not to stuff up the same way twice (that's not exactly how he put it, but you get the picture). Making mistakes is part of being human, what can set you apart is the way you learn from them.
What do you think is a major issue facing your area of insurance law?
There are a few! Aside from the different way we are all doing business these days, regulatory scrutiny on the construction industry is on the increase and likely to lead to an uptick in claims for insurers. We've seen State and Territory Governments focus on legislative reform to make claims a simpler proposition for claimants, increased power being granted to regulatory bodies such as the Office of the Building Commissioner, and the use of class action litigation to advance claims. But out of those issues can come opportunity in the long run, with a better understanding of emerging risks and a general "clean up' in the industry.
What do you enjoy most about working at W+K?
The team here is great. From day one everyone has been incredibly welcoming and helpful, always willing to offer insights and assistance. I have also been struck by the quality of the interesting work that is referred to W+K by our clients – this ensures that I constantly enjoy the intellectual challenge of day to day practice.
What do you get up to outside of law?
I've always loved sport, both playing and watching. I've tried my hand at a fair few and, after a broken leg and torn MCL with some more demanding sports, my latest caper is attempting to play golf. I stress attempting – I'm still working out how to actually do it. I otherwise spend most of my time with family and friends.
Complete this sentence: If I wasn't a lawyer, I would be…
Continuing the pursuit of playing sport with some semblance of skill.
© Wotton + Kearney 2021
This publication is intended to provide commentary and general information. It should not be relied upon as legal advice. Formal legal advice should be sought in particular transactions or on matters of interest arising from this publication. Persons listed may not be admitted in all states and territories.