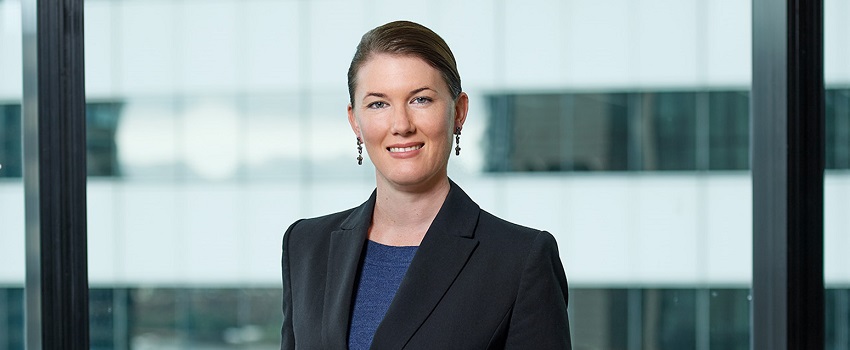 24 November 2021
Get to know Naraya Lamart, new Partner and W+K Marine + Transport team lead
In our next Q&A with recently appointed partners, we get to know W+K's Marine + Transport team leader Naraya Lamart.
---
Tell us about your journey to becoming a partner at W+K
I grew up in Far North Coast NSW before moving to the Gold Coast for my final two years of high school and then on to Brisbane for university (UQ). Following a stint on exchange in Paris where I somehow managed to say goodbye to the world of hospitality and get my first admin job (and marry my French hubby), I returned to Australia where I worked as a legal secretary for a small property law firm and then as a paralegal in a big 10 firm for my last couple of years at university and put myself through the legal practice course.
After graduating from my LLB/BA, I spent an amazing but busy year working as an Associate to a District Court Judge in Brisbane (and on circuit throughout Queensland) whilst doing my LLM in maritime and international trade law. This helped me land what I thought was my dream graduate job at a top tier firm, where I was gunning for a position in the Trade & Transport team. I was somewhat crestfallen when upon joining I realised the entire Trade & Transport team had moved to another firm, but followed six weeks later and spent the next couple of years learning the ropes, including dealing with a major marine casualty when the MV Rena struck a reef in NZ in 2011.
My husband and I then moved to Sydney in 2013 where I transferred to the construction team at Norton Rose after having been seconded to the Gold Coast Light Rail project. Although I gained invaluable litigation/ADR experience in that group, I was keen to get back to the complex world of maritime and trade law and jumped ship (after my first parental leave) to join UK based international shipping firm Holman Fenwick Willan in late 2014. After 7 and a half years at that firm (and two more stints on parental leave), a fantastic opportunity arose at W+K to build and lead the Marine & Transport team through more of an insurance lens. I couldn't be more excited to take on this challenge and look forward to getting to know you all!
What made you decide to become a lawyer?
I originally planned to get into diplomacy/policy work and studied French and international relations in my BA to that end. I thought international law subjects would help me achieve that goal and ended up doing every international law-related electives available – including maritime law. I loved it and realised that it was a gateway to doing international law in a commercial law firm context and my husband would not have to suffer the frustration of having moved to 'tropical' Australia only to live somewhere colder than Paris (i.e. Canberra).
Also, I have been told on occasion (mostly by my family) that I am inclined to be argumentative. We all have to play to our strengths at some stage!
What do you think is a major issue facing your area of insurance law?
With the size of ships increasing and higher concentration of cargoes in stockpiles, warehouses, in ports and in transit, insurers' exposure to major loss events is increasing. Instances of extreme weather events in ports and in storage locations as well as some major fires and explosions onboard vessels and in terminals have all escalated in recent years. Another big issue, is of course, cyber security and the risk posed by cyber piracy events both on and offshore. It is difficult for insurers to calculate premiums for these risks which, if they eventuate, can be far reaching, multi-jurisdictional and very difficult to quantify.
For lawyers, these events often pose complex questions relating to coverage, conflicts of laws, causation and quantum.
What's the best piece of advice (work or personal) you've been given?
Never assume other people know what your goals and aspirations are. You need to voice them, back yourself and put your hand up for as many things that interest you.
What do you enjoy most about working at W+K?
In the short period of time I have been with W+K I have been impressed by the collegiate approach and inclusive culture. Having a great team has always been as equally as important to me as doing interesting work, so I feel lucky to have been presented with an opportunity that fulfils both those desires.
What do you get up to outside of law?
With three young children my idea of "me time" is doing the grocery shopping on my own. I do dream of the day (which I am told will eventually come) when I will be able to read a book for half an hour and maybe fit in a yoga class!
Complete this sentence: If I wasn't a lawyer, I would be… 
Hmmm tricky one – working towards being either the Secretary General of the UN or a dancing, singing, gymnast on horseback (my childhood dream).
© Wotton + Kearney 2021
This publication is intended to provide commentary and general information. It should not be relied upon as legal advice. Formal legal advice should be sought in particular transactions or on matters of interest arising from this publication. Persons listed may not be admitted in all states and territories. For our ILP operating in South Australia, liability is limited by a scheme approved under Professional Standards Legislation.