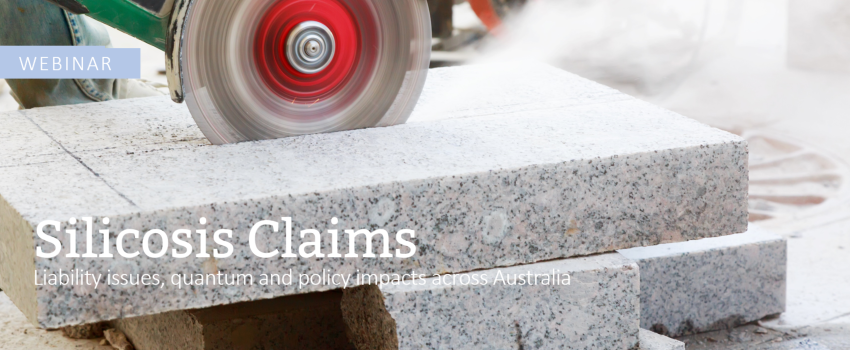 7 June 2021
W+K Silicosis Claims Webinar – summary and recording
The number of silicosis claims in Australia is on the rise due to the increasing awareness of the impact of exposure to high concentrations of silica dust generated while working with artificial and engineered stone. Our national panel of W+K's senior lawyers discuss the wave of silicosis claims, and what this means for Australian companies, insurers, brokers, and other stakeholders.
During the session, our panel discusses:
How silicosis claims are being run around Australia, including discussing the specific nuances in each of the states.
Liability issues arising in silicosis claims.
Quantum issues specific to silicosis.
Policy issues, including policy periods, latent onset triggers, policy wording, and exclusions.
Presenters:
To access all material from the day, including the presentation slides and webinar recording, click here to view online or download PDF.
© Wotton + Kearney 2021
This publication is intended to provide commentary and general information. It should not be relied upon as legal advice. Formal legal advice should be sought in particular transactions or on matters of interest arising from this publication. Persons listed may not be admitted in all states and territories. For our ILP operating in South Australia, liability is limited by a scheme approved under Professional Standards Legislation.