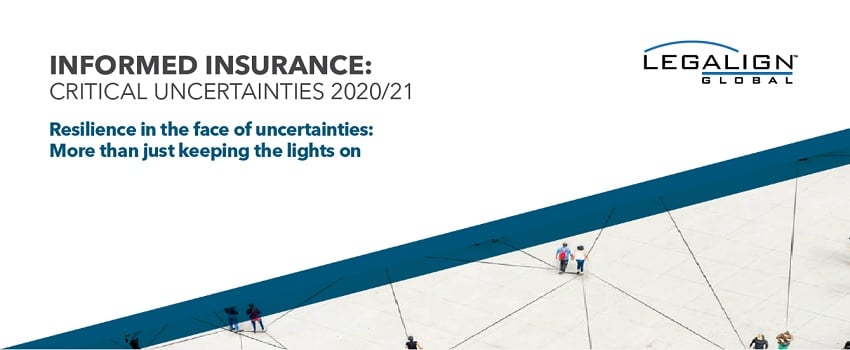 23 November 2020
Informed Insurance: Critical Uncertainties 2020/21
2020 has reminded us all how quickly our world can be turned upside down. As the market considers how best to prepare for a resilient future, scenario planning is a key tool that can begin to provide the answers.
Wotton + Kearney has joined with our Legalign Global alliance partners to produce the Critical Uncertainties series of reports. The overarching Critical Uncertainties Thought Leadership Report highlights how scenario planning is key to preparing for a resilient future. We look at both critical certainties (such as climate change) and critical uncertainties – which are events that if happen, could be very disruptive.
There are also four additional reports which take a deeper dive into some of the critical certainties and uncertainties, such as climate change, cyber risk, social unrest and the impacts on global workforces which senior W+K specialists have contributed to. You can also view all Legalign Global Thought Leadership on DACB Beachcroft's Informed Insurance micro-site.
Critical Uncertainties – Resilience in the face of uncertainties: more than just keeping the lights on. Download PDF
Climate Change – The rising tides of uncertainty (Kristine Vale, W+K). Download PDF
Cyber – Four mismatches and misconceptions that could cost cyber dear (Kieran Doyle, W+K). Download PDF
Social Unrest – Resilience in restless times (Kristine Vale, W+K). Download PDF
World of Work – Work in progress: a full horse? (Chris Mossman, Rebecca Scott, Murray Grant, W+K).  Download PDF
© Wotton + Kearney 2020
This publication is intended to provide commentary and general information. It should not be relied upon as legal advice. Formal legal advice should be sought in particular transactions or on matters of interest arising from this publication. Persons listed may not be admitted in all states and territories. For our ILP operating in South Australia, liability is limited by a scheme approved under Professional Standards Legislation.