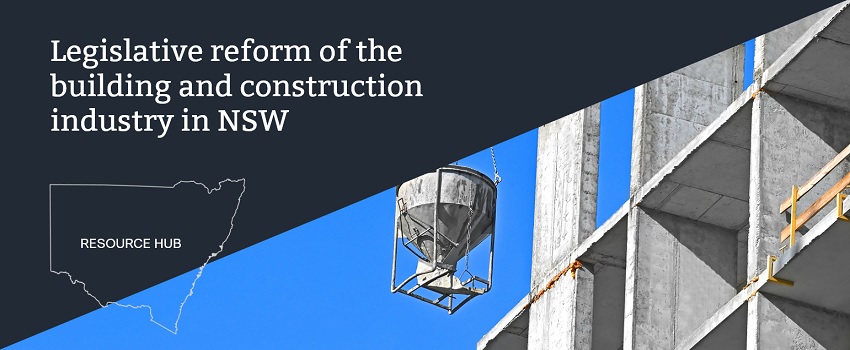 30 October 2020
Resource hub: Legislative reform of the building and construction industry in NSW
The NSW Government has introduced sweeping legislative changes that are intended to regain public confidence in the building and construction industry. The new legislation, in particular the Design and Building Practitioners Act 2020, will have a significant effect on establishing the liability of design and building practitioners within the construction industry and how they are insured.
Wotton + Kearney's NSW team of Construction PI specialists, led by Andrew Moore and Robert Finnigan, is closely following these landmark legislative changes and will provide continuing coverage of the insurance impacts through a series of articles and resources which you can find on this page.
---
Video overview:
W+K construction and property partner Robert Finnigan provides a brief overview of the new legislative regime, its purpose, how the NSW Government is going to monitor compliance, and the implications for insurers. (4:49)
---
NSW legislative reform timeline:
The NSW government legislative reforms are being progressively introduced as set out in our timeline at the link below. These reforms are the start of a new era for the building and construction industry in NSW. The deregulation of two decades ago is steadily being rolled back. This new era will see a shift to a highly regulated and monitored industry.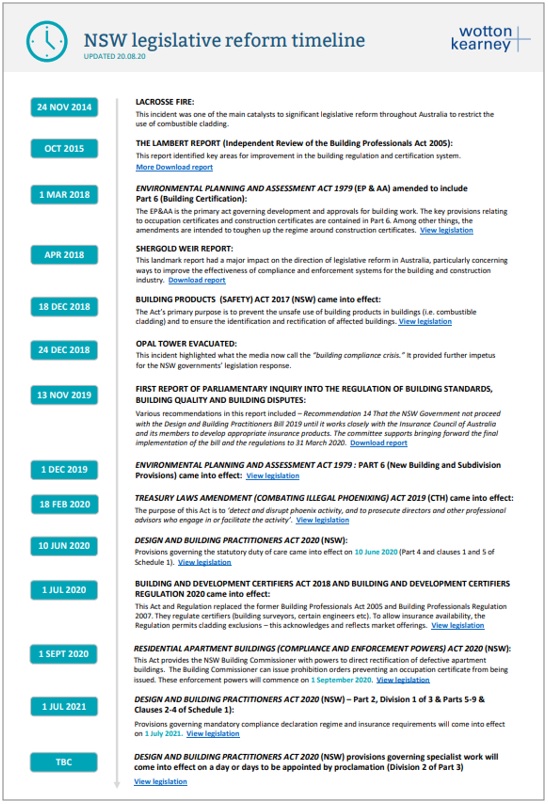 ---
W+K updates:
Update 1: Overview (9 June 2020)
A new duty of care changes the liability landscape – the impact of the Design and Building Practitioners Bill 2020. View Online / Download PDF
Update 2: Compliance declarations (21 July 2020)
Compliance declarations – NSW's new regime for construction professionals set to improve the industry's risk profile. View online / Download PDF
Update 3: Enforcement powers (31 July 2020)
New RAB Act gives regulator real power to tackle construction defects. View online / Download PDF
Update 4: Digital reform (6 October 2020)
Digital reform initiatives to reboot NSW building industry. View online / Download PDF
Update 5: Mandatory insurance requirements (3 December 2020)
NSW building industry's mandatory insurance requirements begin to take shape. View online / Download PDF
---
W+K contacts:
For more information or to talk to us directly, please reach out to our NSW Construction PI team. Download contact card.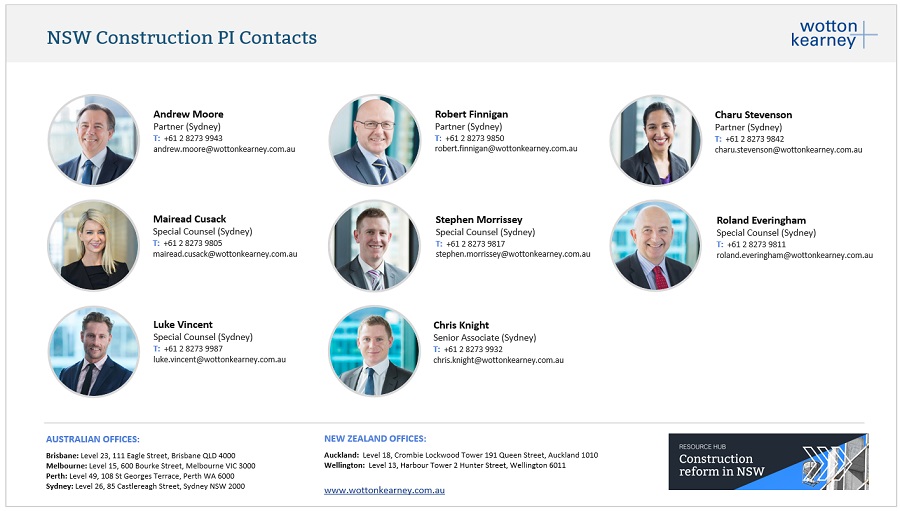 © Wotton + Kearney 2020
This publication is intended to provide commentary and general information. It should not be relied upon as legal advice. Formal legal advice should be sought in particular transactions or on matters of interest arising from this publication. Persons listed may not be admitted in all states and territories. For our ILP operating in South Australia, liability is limited by a scheme approved under Professional Standards Legislation.