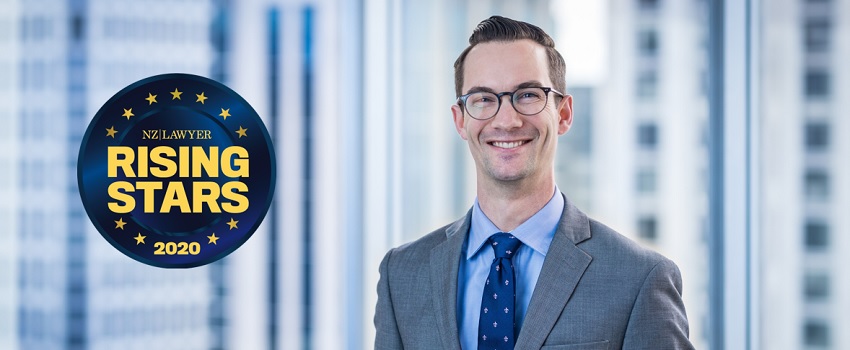 13 February 2020
Property specialist Andrew Moore named a Rising Star in New Zealand
Wotton + Kearney is proud to announce that Senior Associate Andrew Moore has been named in NZ Lawyer's inaugural 2020 Rising Stars list released this week.
The list has been established by NZ Lawyer to recognise a small group of up-and-coming stars in the New Zealand legal profession who are committed to making a difference and are showing signs of becoming the industry's future leaders.
Andrew is based in the firm's Auckland office and has more than 10 years' experience in the insurance sector in New Zealand and the London market. He has become one of the firm's go-to senior lawyers for clients in the highly technical and often complex area of first party property, contract works, industrial special risks and business interruption claims. Andrew advises local and global insurers on complex indemnity disputes, catastrophe losses and subrogated recoveries in New Zealand and the South Pacific.
Antony Holden, W+K's Managing Partner in New Zealand, commented: "Andrew has the ability to make a material difference in high stake matters – often recognised only at the partner level. He is trusted by Wotton + Kearney partners, and by many of the firm's largest clients to lead complex property matters and, in most cases, principally oversee the settlement process. I'm delighted to see him acknowledged in this way for his excellent work with our clients and his contribution to the firm."
Andrew has also been recognised as a Next Generation Lawyer in New Zealand by The Legal 500 Asia-Pacific guide for three consecutive years.
Find out more about Andrew in our Q&A below.
Get to know Andrew Moore, Senior Associate and property specialist
Tell us about your journey to becoming a Senior Associate at W+K
I've been fortunate throughout my career to have had supervisors who have supported my career goals and aspirations. While I was working as a paralegal in London, I was asked to defer my training contract for 12 months. My supervisor at the time arranged for me to take a job as a paralegal in Auckland with Antony Holden who had just returned to NZ to establish what is now Wotton + Kearney NZ. That was 10 years ago and aside from a stint back in London, I've been working here ever since.
What made you decide to become a lawyer?
Sadly, I have wanted to be a lawyer for as long as I can remember. Having started my law degree I realised that that a career in law would involve solving a variety of problems as part of a team – both things I really enjoy.
What do you enjoy most about working at W+K?
The people and the culture. Specifically, the ability not only to assist on files, but be empowered to run them yourself.
What's the best piece of advice (work or personal) you've been given?
Don't stress the little things.
What do you get up to outside of insurance law?
Hiking, travelling, taking care of my well pampered dog, eating my way through very good restaurants I come across or relaxing with friends and a beer (or two).
Complete this sentence: If i wasn't a lawyer, I would be…
… living a very different life.
© Wotton + Kearney 2020
This publication is intended to provide commentary and general information. It should not be relied upon as legal advice. Formal legal advice should be sought in particular transactions or on matters of interest arising from this publication. Persons listed may not be admitted in all states and territories. For our ILP operating in South Australia, liability is limited by a scheme approved under Professional Standards Legislation.