Heidi leads Wotton + Kearney's pro bono and corporate social responsibility program, Community Footprint and is a passionate advocate of pro bono and community advocacy. She was awarded winner of Pro Bono Partner of the Year at both the 2018 and 2019 Lawyers Weekly Partner of the Year Awards.
Heidi was admitted as a solicitor in the UK in 2005 and joined Wotton + Kearney in 2010. Her practice was originally focused on professional indemnity and Directors & Officers claims with a core area of expertise in financial services litigation. She was promoted to the partnership in July 2014.
In addition to her busy insurance practice, Heidi was central to establishing the Community Footprint program in 2012 and has worked tirelessly to shape the firm's community initiatives since this time. In 2016, Heidi stepped away from her insurance practice to focus her time on a sustainable pro bono program for the firm.
The pro bono aspect of Community Footprint enables our lawyers to utilise their legal expertise to help address some of the many unmet legal needs in Australia. Through our partnerships with organisations like the Human Rights Law Centre, the Public Interest Advocacy Centre, Justice Connect, LawRight, the Refugee Advice & Casework Service and Refugee Legal, our lawyers participate in a wide variety of pro bono matters and assist many vulnerable members of our community.
Highlights of our charitable partnerships include:
Raising $105,000 over 12 months for International Justice Mission Australia (IJM) and increasing awareness about modern slavery. We took a team of 15 staff and clients to Cambodia to participate in a charity bike ride and spend time in IJM's field office in Phnom Penh.
Raising $100,000 in 12 months for So They Can and supporting the empowerment of women and children in East Africa through education. A team of 6 travelled to Kenya to spend time volunteering with So They Can's projects and to run the Maasai Mara Marathon.
Heidi is also a passionate advocate for gender equality, leading Wotton + Kearney's Women's Leadership Committee and helping to introduce and implement initiatives to support our staff.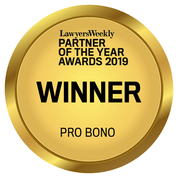 Providing pro bono advice and representation in judicial review of refugee decisions.
Helping members of the 'Legacy Caseload' with their applications for protection visas.
Providing pro bono assistance to refugees and asylum seekers who were previously detained in offshore detention but transferred to Australia for medical treatment.
Assisting self-represented litigants in the Federal Court and Federal Circuit Court.
Providing pro bono advice in relation to seniors' rights and elder abuse.
Assisting members of the Stolen Generation to access documents held by agencies and government authorities and considering prospects of potential redress for their treatment.
Providing legal advice and assistance to not-for-profit individuals.
Areas of Expertise
Community + Pro Bono
Environment + Sustainability
Industry Representation
Human Rights
Refugees and asylum seekers
Seniors Rights
Self-Represented Litigants
Not-for-profits
Professional Affiliations
Australia Insurance Law Association
Association of Women in Insurance
Diversity Council Australia
Young Professional Women Association
Business Chicks
Law Society of NSW