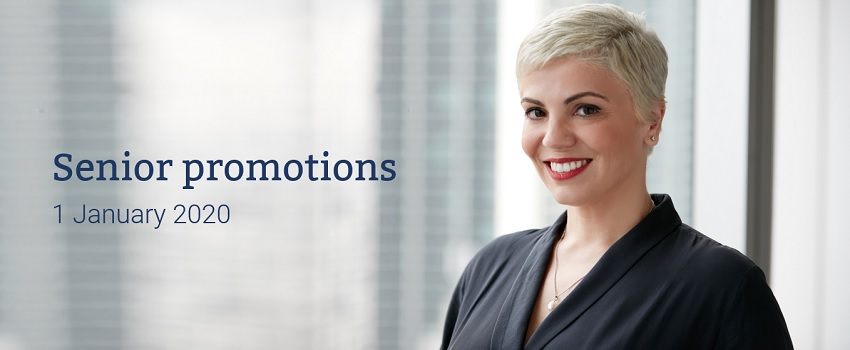 23 December 2019
Wotton + Kearney announces seven senior promotions
Wotton + Kearney is pleased to announce seven senior promotions in Australia and New Zealand, including new Partner, Hope Saloustros, four Special Counsel and two Senior Associates, effective 1 January 2020.
Executive Chairman David Kearney said: "These promotions reflect Wotton + Kearney's on-going commitment to recognising and developing rising stars in our talented team, as well as providing our clients with senior lawyers with the right attitude and specialist expertise needed to deliver quality outcomes across key insurance product lines. As a firm that values diversity and inclusion, it's also pleasing to see that five of our seven latest senior promotions are women."
Also promoted are six senior lawyers: Special Counsel Angela Winkler and Samantha Butt (Sydney), Mylinh L'Estrange (Melbourne), and Murray Grant (Wellington); and Senior Associates Adam Batiste and Amanda de Souza (Sydney).
David Kearney added: "Congratulations to Hope and all of our new senior lawyers on their well-deserved promotions. They each display the characteristics, technical expertise and leadership skills we value as a firm and play a part in making Wotton + Kearney a great place to work as shown by our recent recognition as an Employer of Choice law firm in Australia."
---
Partner
Hope Saloustros – General Liability (Melbourne)
Hope has a commercially focused and pragmatic approach to resolving general liability disputes. She acts for both insurers and large corporations with experience across a broad range of industry sectors including construction, manufacturing, retail, sports and leisure, SME, and energy and mining. Hope is also a champion of our Community Footprint program and was part of the W+K fundraising team that cycled across Cambodia to help raise over $100,000 for International Justice Mission. She's also shed light on the issue of human trafficking in client presentations.
---
Special Counsel
Angela Winkler – General Liability (Sydney)
Angela has local and international experience in general liability, with a specialty in personal injury matters. She also regularly advises on property damage and professional indemnity matters. Angela draws on her secondment experience with a London insurer to work closely with claims teams to understand their key drivers and deliver services in the way that best supports them.
Samantha Butt – General Liability (Sydney)
Samantha's expertise lies in managing multi-facet general liability litigation, including complex and high value claims. She has a broad range of experience across public and products liability, professional indemnity, fraud, construction and third party recovery claims. Based on her secondment experience in a big four bank, she also has a strong appreciation of the commercial needs of financial institutions.
Mylinh L'Estrange – General Liability (Melbourne)
With a strong background in accident compensation and personal injury litigation, Mylinh advises and defends general liability claims, worker's common law actions for damages, and related WorkCover recovery actions, and subrogated recovery actions. She is a committee member of Women In Insurance and a volunteer at the Refugee Legal Centre in Melbourne.
Murray Grant – EPL, Employment & WHS (Wellington)
Murray specialises in employment-related disputes including issues of discrimination and whistleblowing. He has a strong advocacy background in mediations, tribunals and courts including in the Human Rights Commission. Murray also has considerable experience assisting healthcare professionals on medico-legal and regulatory issues in New Zealand.
---
Senior Associate
Adam Batiste – General Liability (Sydney)
Adam defends personal injury, property damage, product liability, product recalls, recoveries, contract and equitable claims. He also advises on professional indemnity claims against architects, engineers and builders. Through his pro bono work, Adam is actively involved in protecting the legal rights of older people in NSW.
Amanda de Souza – General Liability (Sydney)
Amanda specialises in personal injury claims for insurers and self-insureds and is known for her ability to protect corporate reputations. Her practice involves defending employers' liability, general liability, third party property damage, product liability and life, accident and health claims. She is also passionate about her pro bono advocacy work.
© Wotton + Kearney 2019
This publication is intended to provide commentary and general information. It should not be relied upon as legal advice. Formal legal advice should be sought in particular transactions or on matters of interest arising from this publication. Persons listed may not be admitted in all states and territories.