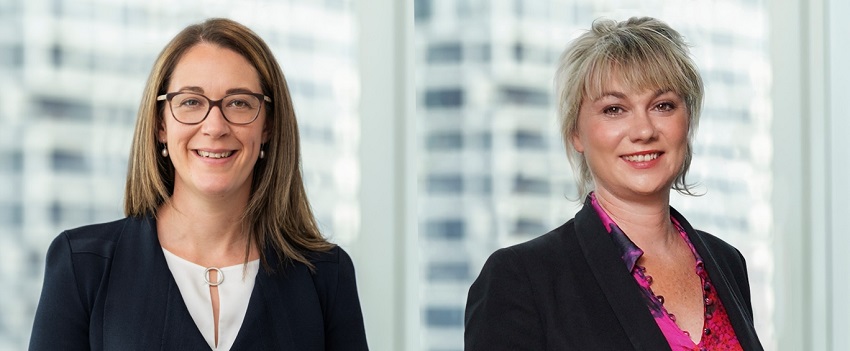 28 January 2021
Wotton + Kearney appoints two new female partners
Wotton + Kearney has appointed two new partners, Chantal van Grieken, a highly regarded general liability practitioner, and Sian Gilbert, an EPL Accredited Specialist. Chantal and Sian, who were formerly with HWL Ebsworth, will join the firm on 1 February 2021.
Chantal is known for her expertise in the areas of public liability, workers actions, statutory third party recoveries, property damage and product liability. She has broad industry experience acting for both local and international insurers, and advises shopping centre owners/managers, REITs, manufacturers and construction and engineering companies in this capacity. She also advises manufacturers and other parties in the product supply chain on product recalls and associated claims.
Chantal said: "I'm excited to be joining Wotton + Kearney's General Liability Team. I'm looking forward to being part of a firm that has such a clear vision for future growth, strong collaborative practices and a people first culture."
Sian is an Accredited Specialist in Employment and Industrial Relations who is particularly known for her high level of technical skills, efficiency and strong client relationships. She advises insurers, financial institutions and government employers on EPL matters, spanning WHS prosecutions, coronial inquiries, general protections disputes, sexual harassment claims and unfair dismissals. She also advises on contract and management disputes, including applications for injunctive relief over contractual restraints.
"Wotton + Kearney has an outstanding market reputation due to the calibre of its team and its singular focus on insurance. I'm delighted to be joining the team," Sian added.
"Both Chantal and Sian are known for their high quality legal advice, pragmatic approach and strong client relationships. We're delighted they are joining Wotton + Kearney as they will be a great addition to our national General Liability and EPL teams and share our commitment to providing outstanding service to the insurance market. As W+K is a firm committed to improving diversity and inclusion in our industry, we're also pleased that their arrival will further boost female representation in our partner ranks," said David Kearney, Wotton + Kearney's Chief Executive Partner.
You can view their full profiles at the links below.
Chantal van Grieken – Partner, General Liability
Sian Gilbert – Partner, Work Health & Safety/EPL
© Wotton + Kearney 2021
This publication is intended to provide commentary and general information. It should not be relied upon as legal advice. Formal legal advice should be sought in particular transactions or on matters of interest arising from this publication. Persons listed may not be admitted in all states and territories. For our ILP operating in South Australia, liability is limited by a scheme approved under Professional Standards Legislation.