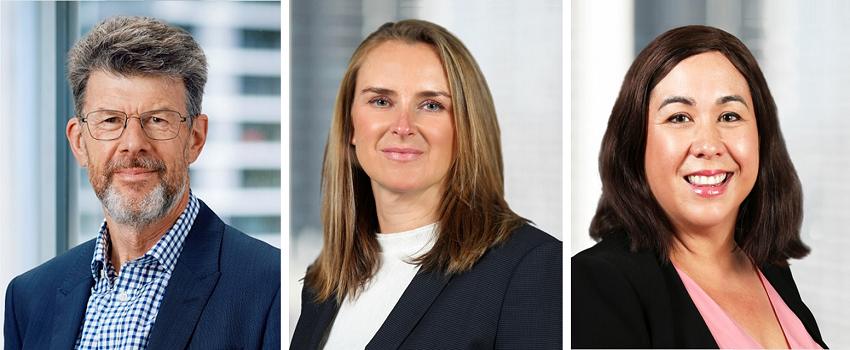 25 January 2022
Wotton + Kearney attracts former DLA insurance team in NZ
A team of highly regarded insurance lawyers from DLA, including partners Peter Leman, Caroline Laband and Misha Henaghan, join Wotton + Kearney in New Zealand on 1 February 2022.
This significant move will see Wotton + Kearney become New Zealand's largest insurance law and dispute resolution practice, with 14 partners and over 80 staff. It also adds to the firm's rapid growth story during the past few years. With the new team's arrival and the addition of two new health partners later this month, Wotton + Kearney will have 330 dedicated insurance lawyers including 57 partners across our six offices in New Zealand and Australia.
For Wotton + Kearney, the opportunity was one not to be missed. "In considering this move, the first thing we did was talk to our clients about what this move would look like for them.  We were delighted with their responses and are convinced Wotton + Kearney has the most compelling insurance practice in the NZ market," said New Zealand Managing Partner, Antony Holden.
"Peter, Caroline and Misha and their teams share our passion for insurance law, and we warmly welcome them to W+K. With our combined team, we now offer market-leading expertise and unrivalled depth and breadth across all commercial insurance lines. I'm very excited about the value this will create for our clients as we meet their immediate and future needs," added Antony.
The insurance team's move follows that of the former DLA healthcare team, who moved to Wotton + Kearney in January 2019.
About our new partners
Peter Leman (Wellington) is an insurance litigator with 35 years' experience. He is known for his expertise in coverage issues in property and liability classes. Peter regularly advises on and defends material damage, business interruption, public and professional liability, and statutory liability claims. Chambers describes him as having "a mastery of complexity".
Caroline Laband (Auckland) is known for her ability to steer insurers and insureds through contentious insurance issues. Described in Chambers as "one of the best insurance litigators in New Zealand", Caroline has over 20 years' experience acting in High Court, Court of Appeal, Supreme Court and arbitration proceedings. She also acts for companies and directors in financial services regulatory investigations and claims against directors.
Misha Henaghan (Auckland) has more than 15 years' experience in litigation and dispute resolution.  She acts for clients in the areas of professional indemnity (including disciplinary claims) and liability (including product and statutory liability). Misha represents construction, financial services and healthcare professionals in contentious matters and provides coverage advice to insurers. Misha is rated a Next Generation Partner and described by clients as "a standout lawyer" who "provides outstanding service" in The Legal 500 Asia Pacific, 2021.
© Wotton + Kearney 2022
This publication is intended to provide commentary and general information. It should not be relied upon as legal advice. Formal legal advice should be sought in particular transactions or on matters of interest arising from this publication. Persons listed may not be admitted in all states and territories. For our ILP operating in South Australia, liability is limited by a scheme approved under Professional Standards Legislation.