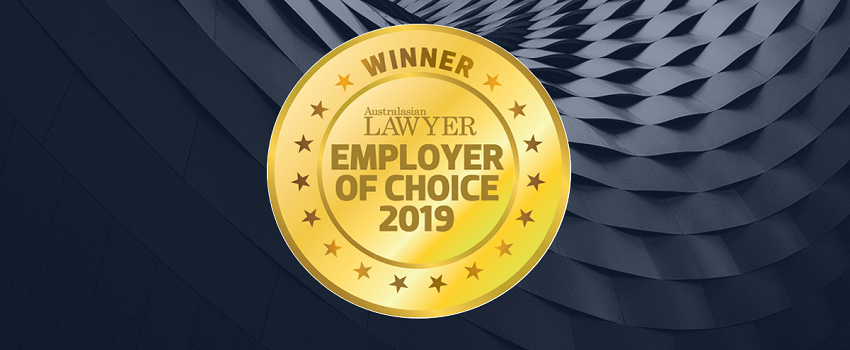 21 November 2019
Wotton + Kearney named a 2019 Employer of Choice
Wotton + Kearney is pleased to have been named a 2019 Employer of Choice in Australasian Lawyer's inaugural Employer of Choice rankings announced this week.
Firms were assessed on the qualitative and quantitative information they provided in areas including remuneration, diversity and inclusion, training and professional development, health and wellbeing. According to the award organisers, there was a large number of entries and the competition was tight. In all, 24 firms were selected as winners with Australasian Lawyer reporting "the most impressive firms around the country were chosen based on their approach to employee development, gratification and overall wellbeing."
W+K's People + Culture Director, Odile Shepherd commented: "This award is really encouraging and spurs us on to continue to find ways to help our people thrive, both personally and professionally. We're continuing to work hard to transform our business to become a destination for talent. Thanks go to our lawyers and support staff for the roles they play at W+K and helping to shape the firm we want to be for our clients and people – it's a team effort!"
W+K has introduced a number of initiatives focused on helping its people to thrive, ranging from implementing reward and recognition practices, driving a feedback culture and building support structures, to enhancing personal and professional development. These initiatives are intended to drive the firm's core values and behaviours of building strong relationships, demonstrating excellence and fostering a diverse and inclusive culture.
© Wotton + Kearney 2019
This publication is intended to provide commentary and general information. It should not be relied upon as legal advice. Formal legal advice should be sought in particular transactions or on matters of interest arising from this publication. Persons listed may not be admitted in all states and territories.