24 June 2016
2016 SENIOR APPOINTMENTS
We are delighted to welcome Richard Johnson to partnership, effective from 1 July 2016, as announced in The Australian today. Since joining W+K in February 2015, Richard has made an impressive impact on the firm and the broader insurance industry.
Richard's areas of expertise include Public & Products Liability, Property Damage and Subrogated Recoveries. He has been instrumental in his advice to insurers in relation to a number of complicated indemnity issues with respect to liability and property damage claims.
We are also congratulate our new Special Counsel on their promotions:
Katie Shanks, Sydney
Maryan Lee, Sydney
Suzanne Craig, Sydney
Andrew Brennan, Melbourne
Allison Hunt, Melbourne
Jonathan Maher, Melbourne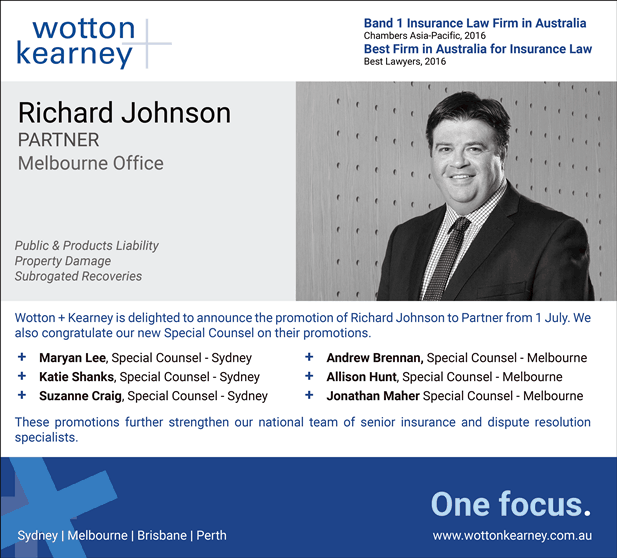 © Wotton + Kearney 2016
This publication is intended to provide commentary and general information. It should not be relied upon as legal advice. Formal legal advice should be sought in particular transactions or on matters of interest arising from this publication. Persons listed may not be admitted in all states and territories.