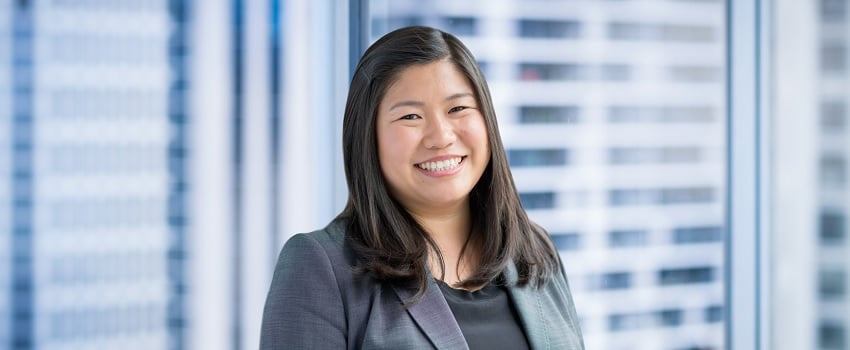 5 August 2022
Get to know Yen Seah, new partner and financial lines specialist
In our latest Q&A with our recently appointed partners, we get to know Melbourne-based financial lines specialist, Yen Seah.
---
Tell us about your journey to becoming a partner at W+K.
I joined W+K in 2014 as a junior solicitor after starting my legal career in-house at the Country Fire Authority as part of their team assisting with class actions arising from the 2009 Black Saturday bushfires. I wanted to give private practice a 'go' after only having worked in-house but wasn't sure it would be for me. Eight and a half years later, and I'm still here! It didn't take me long to realise W+K was where I wanted to be – in fact, I remember walking out of my interview (with Cain Jackson and Nick Lux) hoping they had liked me as much as I had liked them. Since that time, I've found my home in D&O and PI coverage and defence work.
What made you decide to become a lawyer?
I've wanted to be a lawyer for as long as I can remember, without ever having a clue what it was all about until I actually became one. Growing up, I didn't know any lawyers but I was a mouthy, sometimes insufferable teenager with an answer for everything so I would often be told that I should be a lawyer. I obviously listened. Others will be better placed to comment on whether I've grown out of those traits (and I don't want to know the answer!), however, it turned out to be a good fit because I enjoy writing and problem solving, but I have absolutely no imagination and am terrible at maths and science.
What do you think is a major issue facing your area of insurance law?
The practical challenges in managing significant claims involving many different insurers with varying exposures, approaches, and risk appetites – this issue comes up all the time in the context of securities class actions. Also, the intersection between 'company' risks and personal or 'director' risks in circumstances where many insurers are moving away from offering Side C cover.
What's the best piece of advice (work or personal) you've been given?
I'm not sure if it qualifies as advice or if it's more of a life 'directive', but my mother always told me and my brothers to "just get on with it!" whenever we would dawdle or excessively complain about our lives.
What do you enjoy most about working at W+K?
I won't begrudge anybody who rolls their eyes at this answer, but it's the people. W+K really is a down-to-earth place where we take our work seriously but try not to take ourselves too seriously – and leave our egos at the door. In recent years, I've also been impressed by how willing the firm is to acknowledge where it can improve and actively bring people on board who have new perspectives and ideas.
What do you get up to outside of law?
I'm a real homebody, so nothing particularly exciting! My partner and I love to travel but it's been a while since we've been able to do that – not only because of COVID, but also because I have a toddler and another baby on the way.
Complete this sentence: If I wasn't a lawyer, I would be…
This is a tough one! Something totally different, like an editor or a university academic in German Studies or literature. For those who know me, the image of me as an academic will probably elicit a scoff or, at least, a laugh, but I loved studying for my arts degree at university and have a somewhat romanticised view of what life would be like pursuing some obscure topic that's of interest to very few people but me.
© Wotton + Kearney 2022
This publication is intended to provide commentary and general information. It should not be relied upon as legal advice. Formal legal advice should be sought in particular transactions or on matters of interest arising from this publication. Persons listed may not be admitted in all states and territories. For our ILP operating in South Australia, liability is limited by a scheme approved under Professional Standards Legislation.